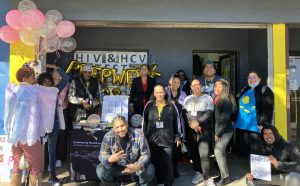 PrEP Aware Week 2023 is officially underway! 🎉 CHASI staff have been hard at work connecting people to HIV prevention and educating our communities about PrEP and PEP for years now – and PrEP Aware Week just means more megaphones!
What is PrEP Aware Week? PrEP Aware Week 2023 is a public health education campaign initiated by the New York State Department of Health (NYSDOH) AIDS Institute. It's a week of action, knowledge, and community, running from October 23 to 29, 2023.
The PrEP Aware Week mission is simple: We aim to outreach, educate, and connect individuals to essential sexual health services, with a special focus on PrEP and PEP. These little acronyms pack a mighty punch! Pre-Exposure Prophylaxis (PrEP) and Post-Exposure Prophylaxis (PEP) are game-changing, highly effective methods for preventing HIV.
Check out the PrEP Aware Week campaign on our socials (find us @chasinyc) and stay tuned for more photos and crafts in support of ending the HIV epidemic in New York!
Our in-house/ on-house artist Sam strikes again, decorating the front of 26 Bay Street!