SNAP and Health Insurance benefits
Important information for people with health insurance in New York
If you or your family have health insurance through Medicaid, the Essential Plan, and/or Child Health Plus, you may need to renew your health insurance now. Please call us at 718-873-3530 to schedule an appointment to review your coverage.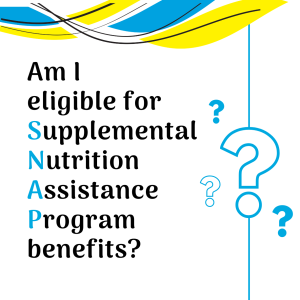 Do you need help determining if you qualify for benefits like SNAP and Health Insurance? CHASI can help!
CHASI can help with SNAP benefits, also known as food stamps, and we can help you get health insurance. If you have been struggling with applications, denials, or requests for more information, reach out today.
To apply for SNAP in person, you can visit any time the food pantry is open without having to travel to Staten Island's public assistance center/HRA. We have appointments every weekday. We can also send community health workers to your special event or organization to help people apply. Call 718-808-1840 or visit the CHASI Community Food Pantry at 2134 Richmond Terrace for more information.
Would you like someone to help you navigate getting health insurance or dealing with denials?
CHASI can help you identify what programs you are eligible for, organize your paperwork and applications, and help you get through the online systems to check on your applications. If you are eligible for Medicaid and have complex health needs, we can pair you with other CHASI programs to help you manage your chronic illness.